Up Next
March Workshop – Mouly Surya My Film My Genre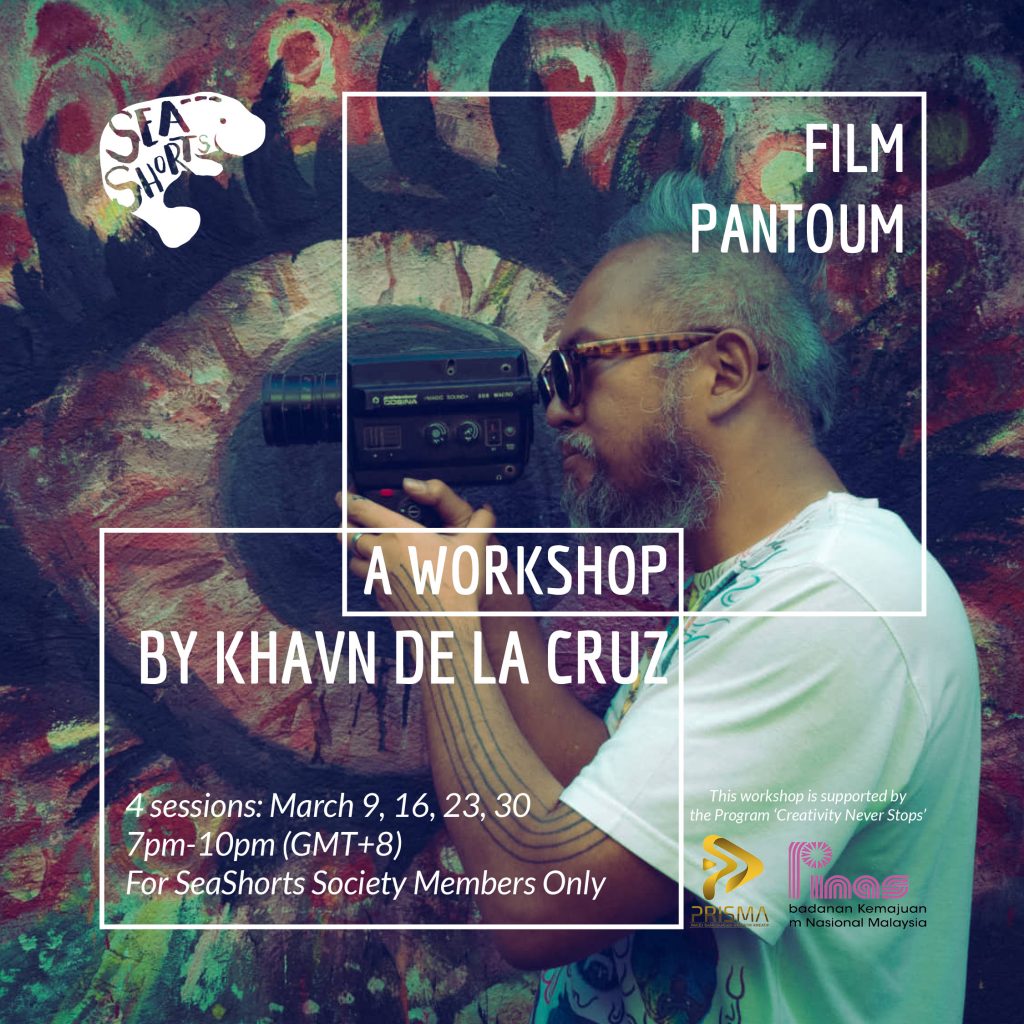 FILM PANTUN WORKSHOP WITH KHAVN DE LA CRUZ
Aligned with the theme of SeaShorts Film Festival 2021 Reimagining Short Films, Reinventing
Southeast Asia, the first ever Film Pantun Workshop aims to excavate new ways of
storytelling through the process of making film-pantun, a new hybrid film form that takes its
inspiration from traditional poetry in its rhythm, structure, and cadence.
Drawing from an earlier workshop that explored the creation of film-haikus, this workshop
continues Seashorts' commitment to experimentations and exhibitions of short films and
short-form moving image works.
Over the course of 4 weeks, we will host a creative digital workshop for those interested in
broadening the limits of visual style, authorial approach, and audience perception.
Under the guidance of veteran Filipino filmmaker Khavn De La Cruz and four special guest
speaker, the participants will reflect on the notions of contemporary cinema together; probe
new possibilities of filmmaking; and undergo a rigorous creative process in making a film-
pantun which would then be exhibited to the greater public.

ABOUT KHAVN DE LA CRUZ
Khavn is a prolific, eclectic filmmaker, writer, and composer from the Philippines.
He has directed 203 films — 52 features and 151 short films, most of which have received
prizes, given retrospectives, and presented in international film festivals. He has also served
as a jury in the Berlinale, Clermont-Ferrand, CPH:DOX, Jeonju, Bucheon, Jihlava, New
Horizons, and Dok Leipzig. Khavn has recorded forty albums, written eight books of poetry,
two short story collections, a novel, and a reference book about the Philippine No Wave film
movement.He has won twice in the Palanca Awards, the Philippines' foremost literary
award. He also edited Under The Storm, an anthology of contemporary Philippine poetry.

SPECIAL GUESTS
On March 9th we will welcome Taiwan-based illustrator and author Maniniwei, on March 16 th
Prof. Muhammad Haji Salleh will give a lecture on the origins, traditions and uses of pantun,
on March 23 rd artist and musician Kamal Sabran will talk about sound in pantun and on
March 30 th we will discuss with Thai film critic Kong Rithdee on film reception and
appreciation.

AGENDA
Date: March 9, 16, 23, 30 (Tuesday) 2021
Time: 7pm-10pm (GMT+8)
Free and Open to the Public
Online on Google Meet

HOW TO ACCESS
March 16th session: https://meet.google.com/fcy-qtyn-fwy
March 23rd session: https://meet.google.com/ksj-qnkh-uyy
March 30th session: https://meet.google.com/zdf-kytn-gyf
February Masterclass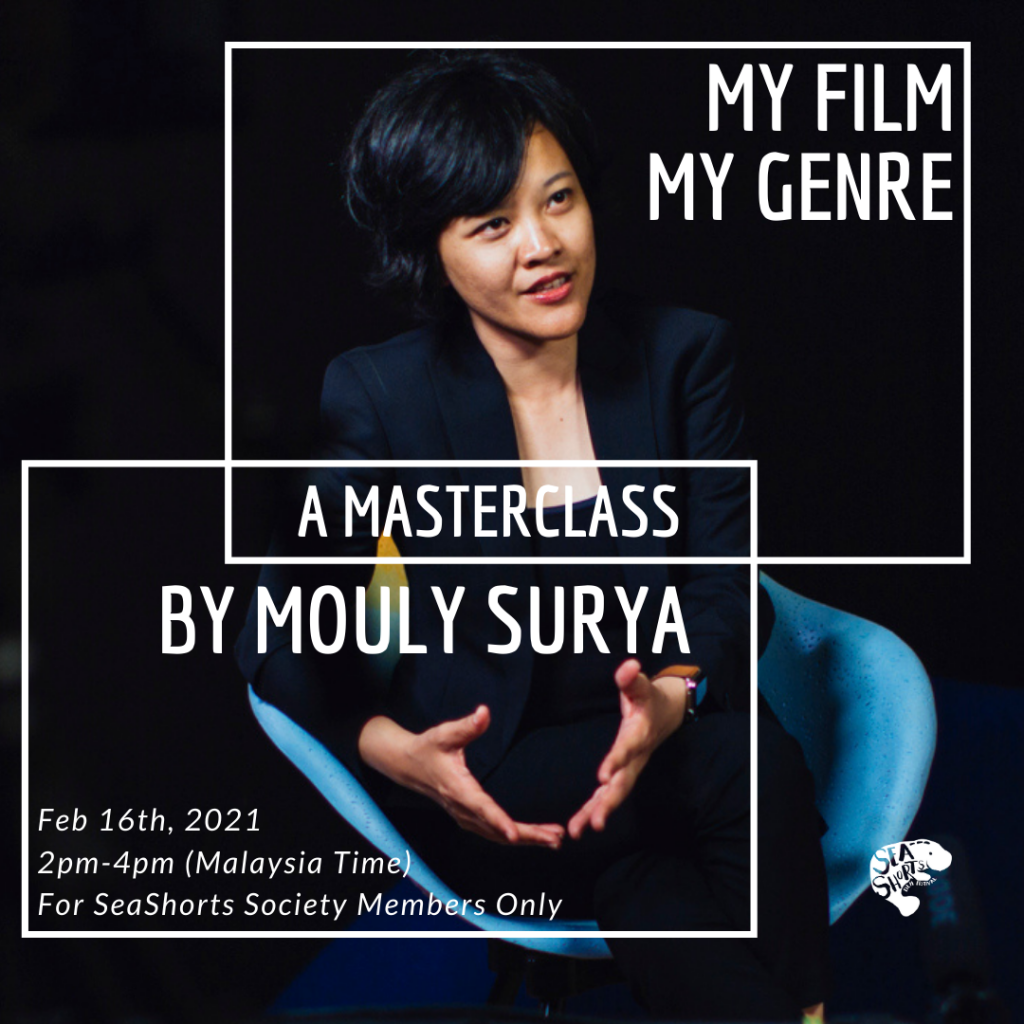 MY FILM MY GENRE WITH MOULY SURYA
Using elevated genre to deliver a personal voice in films has been a key characteristic in the
versatile practice of Indonesian filmmaker Mouly Surya.
From making her debut in the psychological drama Fiction. to a high school romantic
comedy set in a School for the Visually Impaired in What They Don't Talk About When They
Talk About Love ; to making an Indonesian Western from a story of violence in rural society
in Marlina the Murderer in Four Acts, Surya will discuss her works, her methods, and some
things in between in this inaugural session of the Seashorts Masterclass Series.

AGENDA
Date: February 16 (Tuesday) 2021
Time: 2pm-4pm (GMT+8)
Free and Online
For SeaShorts Society Members Only

ABOUT MOULY SURYA
Indonesian filmmaker Mouly Surya premiered her award-winning debut, Fiction. at Busan.
Her second feature, What They Don't Talk About When They Talk About Love, received the
NETPAC Award at Rotterdam and competed at Sundance. Her third film, Marlina the
Murderer in Four Acts, premiered in Cannes at the Directors' Fortnight, won 10 awards in
Indonesia's Citra Awards, and was distributed to more than 40 territories. Currently, Mouly
is working on her upcoming films: This City is a Battlefield and Netflix action-thriller Trigger
Warning.